Zucchini Fritters With Avocado Dip
---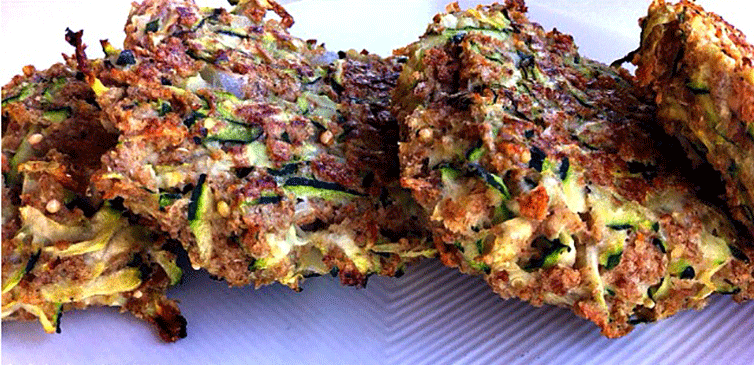 ---
Ingredients
For Fritter
1/4 cup of fresh basil
1/2 cup of fresh dill
1 garlic clove
1 tbsp lemon zest
1/4 tsp onion powder
1/4 cup of fresh oregano
large zucchini
1/4 cup gluten-free flour
Pepper and salt to taste
2 organic eggs or flax eggs
2 tbsp coconut oil or olive oil
For Dip
1/2 cup finely chopped fresh dill
1 ripe avocado
1/2 tsp onion powder
1/2 tsp of vegenaise
Salt to taste
Instructions – Fritter
Grate zucchini with a large grater box. Put grated zucchini in a colander and toss with 1/2 tsp of salt. Let stand in sick for 10 minutes then wring dry with a clean towel.
In a large bowl, gently mix zucchini, egg, garlic, basil, oregano, lemon zest, onion powder, salt and pepper. After combined well, slowly add flour while stirring to keep from getting lumpy.
Heat coconut oil or olive oil in a big pan over medium- high heat. Oil is ready when you add a small amount of zucchini mixture and it begins to sizzle.
Scoop 2 tbsp of zucchini mixture into pan evenly spaced apart.
Cook fritters on one side until golden brown (about 2 or 3 minutes). Flip them and cook until golden brown on the other side.
Transfer finished fritters to a plate and continue the process. You may need to add more oil to the pan as you cook more.
Instructions – Dip
Cut avocado in half and remove the seed.
Scoop avocado into a small bowl and add dill, onion powder, vegenaise, and salt.
Mash until smooth.