Thanksgiving Paleo Dressing
---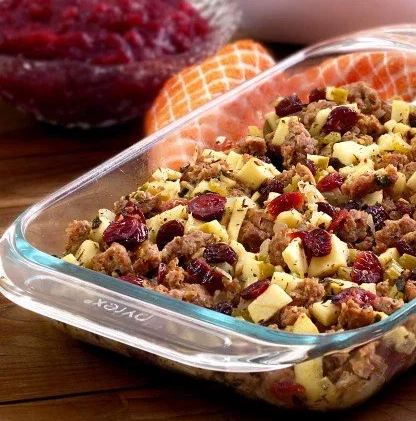 ---
Ingredients
1/2 lb. sausage
4 ½ cups mushrooms, diced
1 medium yellow onion, diced
6 celery stalks, diced
4 carrots, diced
1/2 cup chicken broth
1 tablespoon diced fresh sage
½ tsp minced fresh thyme leaves
½ cup dried cherries, finely chopped
½ cup slivered almonds
½ tablespoon garlic powder
4 tablespoons olive oil
Sea salt and black pepper to taste
Instructions
Preheat oven to 350. In a large soup pot, sauté onions in olive oil until translucent.
Add the sausage and brown.
Add the carrots, celery, mushrooms, chicken broth, cherries, almonds, sage, thyme, garlic powder, salt, and pepper.
Mix well, bring to a simmer, and cook for 5-10 minutes or until the veggies begin to absorb the chicken broth.
Transfer to a large glass baking dish, cover tightly with aluminum foil and bake at 350 for 45 minutes.