---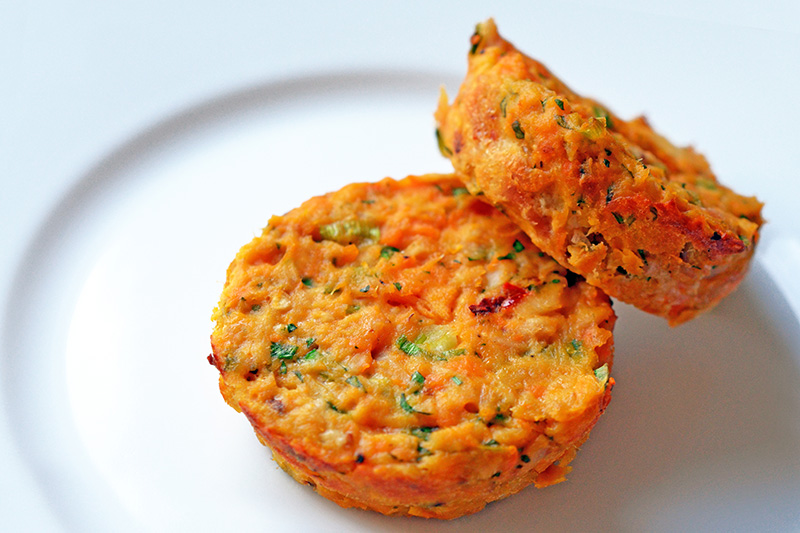 ---
Ingredients
3 tablespoons melted ghee, divided
10 oz. canned albacore tuna packed in water, drained
3 scallions (1/3 cup), sliced thin
2 tablespoons of fresh minced cilantro
1 1/3 cup mashed baked sweet potato
1/2 medium sized lemon finely zested
1 tablespoon minced jalapeno
2 eggs
1/2 teaspoon of red pepper flakes
kosher salt
black pepper freshly ground
(optional) 3 lemons cut into wedges
Instructions
Preheat oven to 350 degrees. Use 1 tablespoon of melted ghee to grease a 12 cup muffin tin (regular size).
Mix tuna, scallions and cilantro into a large bowl.
Then fold in the mashed sweet potato.
Stir in lemon zest, jalapeno, the rest of the ghee (2 tablespoons), and red pepper flakes. Add salt and pepper to your liking.
Gently mix with spatula or hands in order to keep tuna chunks from breaking up too much.
Spoon 1/4 cup of the tuna blend into the muffin tin and flatten with the spoon.
Bake the tuna cakes for 20-25 minutes or until a toothpick is clean after being inserted into the middle of the cake.
Take cakes out of muffin tin and place on wire rack or wax paper to cool.
Squeeze lemon juice on top (optional) and serve!